Bible verses about trusting God, have helped many individuals to overcome many life challenges. Do you trust God? Trusting God brings peace to the heart.
When we trust our heavenly Father, we place our faith in him because we know that he is by our side to help us.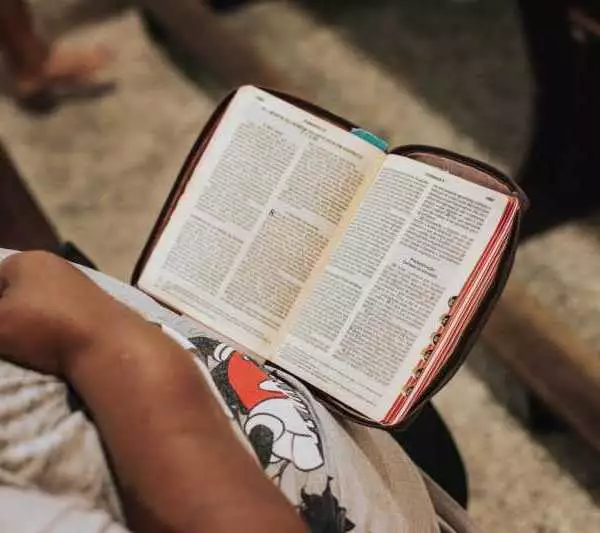 Trust in God does not free us from uncertain or difficult moments in life.
However, it does help us face them with courage and faith. Whoever trusts in God knows that he does not abandon him or allow situations beyond what he can bear.
Meditate on the following verses and affirm your trust in God!
Bible Verses about trusting in God promise
God's promises do not fail. When you trust God with all your heart, he guides your life and teaches you the right way.
God's plans for your life are good! Don't be afraid to take the step of faith and hand over every area of your life to him. You will find that this is the best decision you can make.
1. 1 Corinthians 10:13
"No temptation has overtaken you except such as is common to man; but God is faithful, who will not allow you to be tempted beyond what you are able, but with the temptation will also make the way of escape, that you may be able to [a]bear it."
2. Romans 8:28
"And we know that all things work together for good to those who love God, to those who are the called according to His purpose."
3. Isaiah 40:31
"But those who wait on the Lord Shall renew their strength. They shall mount up with wings like eagles, they shall run and not be weary, they shall walk and not faint."
4. Matthew 11:28-30
"Come to Me, all you who labor and are heavy laden, and I will give you rest.
29 Take My yoke upon you and learn from Me, for I am gentle and lowly in heart, and you will find rest for your souls. For My yoke is easy, and My burden is light."
5. Jeremiah 29:11
"For I know the thoughts that I think toward you, says the Lord, thoughts of peace and not of evil, to give you a future and a hope."
6. Psalm 125:1
"Those who trust in the Lord Are like Mount Zion, which cannot be moved, but abides forever."
7. Psalm 37:25
"I have been young, and now am old, Yet I have not seen the righteous forsaken, Nor his descendants begging bread."
8. John 16:33
"And we have such trust through Christ toward God.
Not that we are sufficient of ourselves to think of anything as being from ourselves, but our sufficiency is from God.
Who also made us sufficient as ministers of the new covenant, not of the letter but of the [a]Spirit; for the letter kills, but the Spirit gives life."
9. Romans 8:37-39
"Yet in all these things we are more than conquerors through Him who loved us.
For I am persuaded that neither death nor life, nor angels nor principalities nor powers, nor things present nor things to come.
Nor height nor depth, nor any other created thing, shall be able to separate us from the love of God which is in Christ Jesus our Lord." (Romans 8: 37-39)
Also Related: Top 55 Inspirational Bible Verses about Trusting God.
Bible Verses about trusting God in times of trouble
Life is full of ups and downs. It is common for you to encounter uncomfortable situations that cause you fear and anxiety.
However, the more you struggle with these feelings, the worse it is. In the face of these moments, try to seek your faith again.
Even in the face of challenging life issues, you can be filled with contentment and tranquility.
The word of the Lord reassures and relieves any tension or anxiety, even during the difficulties presented by life. Trust in the Lord.
10. 2 Samuel 22:31
"As for God, His way is perfect; The word of the Lord is proven. He is a shield to all who trust in Him."
11. Psalm 46:1
"God is our refuge and strength, A[a] very present help in trouble."
12. 1 John 4:18
"There is no fear in love, but perfect love casts out fear because fear involves torment. But he who fears has not been made perfect in love."
13. Psalm 94:19
"In the multitude of my anxieties within me, Your comforts delight my soul."
14. Nahum 1: 7
"The Lord is good, A stronghold in the day of trouble; And He knows those who trust in Him."
15. Psalm 27:3
"Though an army may encamp against me, My heart shall not fear; Though war may rise against me, In this I will be confident." (Psalm 27:3)
16. Psalm 9:9
"The Lord also will be a refuge[a] for the oppressed, A refuge in times of trouble."
17. Habakkuk 3:19
"The Lord God is my strength; He will make my feet like deer's feet, And He will make me walk on my high hills. To the Chief Musician. With my stringed instruments."
18. John 16:33
"These things I have spoken to you, that in Me you may have peace. In the world, you [a]will have tribulation, but be of good cheer, I have overcome the world."
Bible verses to trust God during the COVID-19 pandemic
As we live through this uncertain period of the COVID-19 pandemic, we can use the word of God to find comfort.
In this unique moment of the coronavirus / COVID-19 pandemic, the temptation to be afraid and worried, anxious, and stress may be very close.
Between our health, our stability at work, our finances, our isolation, and that of our loved ones, it may seem that there is every reason to live in uncertainty and fear.
Here is our opportunity to believe and hold on to the word of God.
Because the truth is that we have tremendous power in the universe on our side, we have Almighty God, the Creator of the ends of the earth, holding us in the palm of your hand!
He will support us through it all, as long as we trust him.
19. Psalm 37: 3
"Trust in the Lord, and do good; dwell in the land, and feed on His faithfulness."
20. Psalm 55:22
"Cast your burden on the Lord, and He shall sustain you. He shall never permit the righteous to be [a]moved."
21. 2 Corinthians 12: 9-10
"And He said to me, "My grace is sufficient for you, for My strength is made perfect in weakness."
Therefore most gladly I will rather boast in my infirmities, that the power of Christ may rest upon me.
Therefore I take pleasure in infirmities, in reproaches, in needs, in persecutions, in distresses, for Christ's sake. For when I am weak, then I am strong."
22. Psalm 32:7
"You are my hiding place; You shall preserve me from trouble; and you shall surround me with songs of deliverance."
23. Isaiah 26:3
"You will keep in peace the one whose mind is fixed on you; because he trusts you."
24. Psalm 91: 1-2
"He who dwells in the secret place of the Highest Shall abide under the shadow of the Almighty. I will say of the Lord, "He is my refuge and my fortress; My God, in Him, I will trust."
25. Proverbs 3: 24-26
"When you lie down, you will not be afraid; Yes, you will lie down, and your sleep will be sweet.
Do not be afraid of sudden terror, Nor of trouble from the wicked when it comes; For the Lord will be your confidence, And will keep your foot from being caught."
Bible verses about trusting God and not worrying
Keeping your mind on the things above makes you worry less about things on earth! Everyday situations can turn our eyes away from God, but as we put our concerns before Him, the Lord will sustain us.
When we are first seeking His Kingdom, we are in His care, and he will supply all things.
26. Philippians 4: 6-7
"Be anxious for nothing, but in everything by prayer and supplication, with thanksgiving, let your requests be made known to God. And the peace of God, which surpasses all understanding, will guard your hearts and minds through Christ Jesus."
27. 1 Peter 5:7
"Casting all your care upon Him, for He cares for you."
28. John 14: 1-3
"Let not your heart be troubled; you believe in God, believe also in Me.
In My Father's house are many [a]mansions; if it were not so, [b], I would have told you.
I go to prepare a place for you. And if I go and prepare a place for you, I will come again and receive you to Myself; that where I am, there you may be also."
29. Matthew 6: 31-33
"Therefore do not worry, saying, 'What shall we eat?' or 'What shall we drink?' or 'What shall we wear? For after all these things the Gentiles seek.
For your heavenly Father knows that you need all these things. But seek first the kingdom of God and His righteousness, and all these things shall be added to you."
30. Colossians 3: 1-2
"If then you were raised with Christ, seek those things which are above, where Christ is, sitting at the right hand of God. Set your mind on things above, not on things on the earth."
31. Matthew 6:34
"Therefore do not worry about tomorrow, for tomorrow will worry about its own things. Sufficient for the day is its own trouble."
32. Luke 12: 25-26
"And which of you by worrying can add one cubit to his stature? If you then are not able to do the least, why [a]are you anxious for the rest?"
Bible verses about trusting God in difficult times
In an uncertain world, we need to cling to hope. We must remain firm in difficult times, never give up – and we depend on God to navigate rough waters.
In our weakness, we can find strength in the Lord.
Life can bring us down, but when it does, we must reflect on Bible verses about the strength to remember and rediscover the truth as we take our struggles to God in prayer.
33. Jeremiah 17: 7-8
"Blessed is the man who trusts in the Lord, And whose hope is the Lord.
For he shall be like a tree planted by the waters, Which spreads out its roots by the river, And will not [a]fear when heat comes; But its leaf will be green, And will not be anxious in the year of drought, Nor will cease from yielding fruit."
34. Psalm 28: 6-7
"Blessed be the Lord because He has heard the voice of my supplications! The Lord is my strength and my shield. My heart trusted in Him, and I am helped; therefore, my heart greatly rejoices, and with my song, I will praise Him."
35. Proverbs 16:20
"He who heeds the word wisely will find good, and whoever trusts in the Lord, happy is he."
36. Isaiah 43:2
"When you pass through the waters, I will be with you; And through the rivers, they shall not overflow you. When you walk through the fire, you shall not be burned, nor shall the flame scorch you."
37. Psalm 27:5
"For in the time of trouble, He shall hide me in His pavilion. In the secret place of His tabernacle, He shall hide me; He shall set me high upon a rock."
38. John 14:27
"Peace I leave with you, My peace I give to you; not as the world gives do I give to you. Let not your heart be troubled, neither let it be afraid." (John 14:27)
Bible verses to strengthen your trust in God 
When we love and know more about God, we find that we can always trust Him, even in situations that seem impossible to resolve.
Putting our trust in God is putting our lives in his hands, in the security that, if we follow his will, he has the best for us. These verses will help you to trust God more in all areas of your life:
39. Isaiah 41:10
"Fear not, for I am with you; Be not dismayed, for I am your God. I will strengthen you, Yes, I will help you, I will uphold you with My righteous right hand."
40. Isaiah 12:2
Behold, God is my salvation. I will trust and not be afraid. For Yah, the Lord is my strength and song; He also has become my salvation."
41. Psalm 22:4-5
"Our fathers trusted in You; They trusted, and You delivered them. They cried to You, and were delivered; and trusted in You, and were not ashamed."
42. Psalm 20:7-8
"Some trust in chariots, and some in horses; But we will remember the name of the Lord our God. They have bowed down and fallen, But we have risen and stand upright."
43. Psalm 18:2
"The Lord is my rock and my fortress and my deliverer; My God, my [a]strength, in whom I will trust. My shield and the [b]horn of my salvation, my stronghold."
44. Matthew 21:21
"So Jesus answered and said to them, "Assuredly, I say to you, if you have faith and do not doubt, you will not only do what was done to the fig tree but also if you say to this mountain, 'Be removed and be cast into the sea,' it will be done."
The Lord is righteous in all His ways, Gracious in all His works.
The Lord is near to all who call upon Him, To all who call upon Him in Truth. He will fulfill the desire of those who fear Him. He also will hear their cry and save them.
In conclusion
Too often, Satan seems to wear down believers and make them feel insecure about their faith.
The word of God is powerful and robust. We can have confidence in serving and following the only true and living God and meditating on these powerful Bible verses about trusting God…
Be encouraged by that and by having the confidence to share your faith and belief in God.
Have your trust in the only true God