Marriage is one beautiful chapter of life, and like other aspects of life, it comes with its own challenges.
Every married person would tell you they have had their own share of ups and downs. These ups and downs can either make your marriage or break it; it all depends on how you handle your own marital problems. 
As a child of God, you have the privilege to cry out to your Heavenly Father about your marital issues. As Christians, we win by prayer; we solve our issues through prayer. 
In this article, I will not only provide you with powerful prayers for marriage problems, but you will also discover the answers to the following:
How Do You Fight for Your Marriage in Prayer? 
What Do You Pray for in Troubled Marriages? 
How Do I Pray to God to Save My Marriage? 
What Does God say About Troubled Marriage? 
Frequently Asked Questions About Marriage Problems. 
How Do You Fight for Your Marriage in Prayer?
Whether you are newly married or have been married for many years, your marriage is worth fighting for. Marriage is not a bed of roses, and the most viable way around it is to fight in the place of prayer.
Instead of listening to those who tell you to quit when things get tough, you should get down on your knees and pray. The beautiful thing is that when you decide to fight for your marriage, God will fight with you. 
Scripture describes God as our help, shield, fortress, and strength. So, when you make up your mind to fight for your marriage, you can be sure of divine strength to wage war against the enemy for the survival of your marriage. 
You might ask, "Is my marriage worth fighting for?" The answer is yes! God wants you to fight for your marriage because marriage was His idea.
He also has the blueprint for making it work regardless of how bleak the situation in any marriage is. When you decide to fight for yours, you trust that God's design for marriage will exceed your expectations.
Here are practical ways to fight for your marriage in prayer:
Pray and keep praying. 
Never give up praying even when things are rosy. 
Guard your marriage spiritually on your knees (in

prayer

). 
Choose peace over conflict. 
Always forgive, and don't count how many times you have had to do it. 
What Do You Pray for in Troubled Marriages? 
There are many things to pray for in a troubled marriage. One such thing is to have more intimacy and less conflict in your marriage. Constant fights, arguments, and unresolved conflict can erode intimacy in any marriage.
Hence, this is one of the most crucial things to pray against in your marriage. Do you have trouble nurturing and providing each other comfort?
If you and your spouse are on opposite poles regarding sexual desire, or you have lost some of the affection you used to enjoy in your marriage, this should be another reason to pray. 
While there cannot be an exhaustive list of all the things you should pray for in your marriage, a good place to start should be to pray for:
Increase the love you feel for each other. 
Divine protection over your marriage and home. 
Peace between you and your partner. 
Blessings over your spouse and your marriage. 
Patience and tolerance. 
Your children and their welfare. 
Supernatural breakthroughs in your finances. 
Unity and oneness of heart. 
Grace against temptation and infidelity. 
Against conflict. 
How Do I Pray to God To Save My Marriage? 
Before you start praying to save your marriage, God is saying to you through His word: Be not afraid nor dismayed; for the battle is not yours, but God's (Chronicles 20:15). 
We often don't get answers from God when we pray because we pray amiss – not praying the right prayers or hitting the target.
To save your marriage, you should repent from every known and unknown sin. This opens the heaven over your prayers; you can receive answers to whatever you ask God for. 
Secondly, you must open your mouth and ask with full expectation to receive what you have asked from the Lord.
Next, listen and follow God's leading. When we pray, God gives us directions like Proverbs 3:5-6 NIV, which says – Trust in the Lord with all your heart and lean not on your own understanding; 6: in all your ways submit to him, and he will make your paths straight. 
Lastly, trust God and be still before Him after you have prayed. 
Now that you know how to pray to God to save your marriage, pray the 15 prayers for marriage problems in the next section of this article. 
Here Are 15 Prayers for Marriage Problems. 
1. Prayer for Marriage Problems. 
The thief comes only to steal and kill and destroy; I have come that they may have life and have it to the full. -John 10:10
Dear Lord Jesus, thank you for my marriage and the peace my spouse, and I have enjoyed so far.
I'm here before you because, right now, it feels like the wind of trouble has been stirred over my marriage and home. 
Therefore, Father, I ask that you cause your wind of peace to blow over my marriage. Let the turbulent storm raging against my marriage die out in the name of Jesus. 
Father Lord, I know the devil is out to steal the peace and joy in my marriage and home. But your word assures me we are more than conquerors through Christ who loves us. 
Thank you, dear Father, that you can calm the storm in my marriage. 
In Jesus Mighty name, Amen!
2. Prayer for Married Couples. 
My dear brothers and sisters, take note of this: Everyone should be quick to listen, slow to speak, and slow to become angry. -James 1:19
Heavenly Father, I'm before you today to commit my marriage to your able hands. Abba Father, communicating effectively with my spouse these past few months has been tough. 
That's why I'm here asking that you help me. Imbue us with the wisdom, understanding, and grace to communicate more effectively.
Please help us understand each other's needs and assist us in conveying our thoughts to each other most appropriately. May we not hide anything from each other; instead, help us be truthful and transparent with each other. 
In Jesus' name, Amen!
3. Prayer for a Troubled Marriage. 
By wisdom, a house is built, and through understanding, it is established. Proverbs 24:3
Faithful God, thank you for the beautiful gift of marriage. Thank you also for the understanding and peace my partner, and I once shared.
Things are no more the same dear God; that's why I ask today that you restore the understanding and peace we once had in the name of Jesus. 
Currently, it seems we can hardly ever reach an agreement. It appears we disagree too many times that it's necessary, and this is ruining the peace of our marriage. 
So, I am asking, dear Lord, please help us and restore the peace and understanding between my partner and me. 
In Jesus' mighty name, Amen!
4. Emergency Prayers for Marriage Restoration. 
The heart of the righteous weighs its answers, but the mouth of the wicked gushes evil. -Proverbs 15:28
Sovereign Lord, my marriage has been so shaky and unstable these past few months. I am desperate for speedy divine intervention.
Please help us stop the bickering and recurrent conflict that are sprawling out of control all too fast.
May peace reign between my wife and me. Restore the love and understanding we once had quickly. 
Above all, may our friendship and sweet bond return and be better than it had ever been. 
Thank you for hearing my heartfelt requests and granting them according to the fullness of your grace.
In Jesus' mighty name, Amen!
5. Prayer for Marriage Restoration. 
In all your ways, submit to him, and he will make your paths straight. -Proverbs 3:6
Everlasting God, I ask that you help my husband and I navigate our relationship's rough patches. Please heal us where we are broken, fix the shattered shards of our relationship, and restore us completely. 
Dear God, you know this marriage better than anyone else and know where to touch to stop the hurt and pain.  Father, please touch us in all the right places and this marriage so that things will be peaceful and beautiful again.
In the Mighty Name of Jesus, Amen. 
There is neither Jew nor Gentile, neither slave nor free, nor is there male and female, for you are all one in Christ Jesus. -Galatians 3:28
Gracious God, thank you so much for my partner. Thank you for helping us find each other. Please assist us in resolving our differences and restoring bliss in our marriage. 
Our interests do not seem to be the same anymore. We appear to be growing apart because our interests just never align. Please, Lord, help us find our balance and return to each other. Give us the grace to appreciate and understand each other's differences/interests. 
In the name of Jesus Christ, Amen!
7. Prayer for a Struggling Wife. 
Finally, be strong in the Lord and in his mighty power. –Ephesians 6:10
Dear God, I am grateful for my marital journey and how far you have brought my partner and me. I request today that you help us through this new phase of our lives. 
Abba Father, my wife, often appears excessively stressed every day, which seems to be affecting our marriage. I pray for strength for my wife. I ask that you strengthen her so she will have lots of energy to invest in our marriage.
Lord Jesus, I also ask for wisdom to know when to assist her with the many responsibilities she takes care in the home front so that she will be less stressed. 
Thank you, dear Father, because I believe you have heard me and granted my requests. 
In Jesus' mighty name, Amen!
8. Prayer When Faced with Financial Problems. 
But remember the Lord your God, for it is he who gives you the ability to produce wealth and so confirms his covenant, which he swore to your ancestors, as it is today.- Deuteronomy 8:18
Heavenly Father, thank you for your abundant provision for my family. I am grateful for your unconditional love and care toward us. However, Lord, the enemy is trying to mess with our finances. But I am grateful that we are more than conquerors through you who love us. 
I commit our financial problems into your hands, Precious Lord. Please restore all we have lost and help us get back up on our feet again financially. 
Remove all the tension and awkwardness this situation has brought into our marriage. Grant us the wisdom we need to manage our resources well. Make us prudent in all our spending. 
In Jesus' name, I pray, Amen!
9. Prayer for Healing a Struggling Marriage. 
He heals the brokenhearted and binds up their wounds. He determines the number of the stars and calls them each by name. –Psalm 147:3-4
Dear Lord Jesus, I come before you today because my marriage is in shambles. I ask, dear Lord, that you heal us from all the hurt and pain we have caused each other. 
Divinely assist us through this rough phase in our marriage. Help us grow out of the misery we are currently experiencing due to our past inconsideration toward each other.
Touch us with your healing hands where we need your healing the most. Mend our broken hearts like you said you would in your word. 
Assist us in getting through every trial we are facing and those we will still face in the future. Provide us with the blueprint for a successful marriage so we can build a solid and enviable relationship and family. 
Gracious God, use everything we have been through to make us and our marriage stronger and better than ever. 
Thank you, Loving God, because nothing will ever be tearing us and our marriage apart with you on our side. 
In Jesus' mighty name, Amen!
10. Spiritual Warfare Prayer for Marriage Problems. 
No weapon forged against you will prevail, and you will refute every tongue that accuses you. This is the heritage of the servants of the Lord, and this is their vindication from me, declares the Lord.-Isaiah 54:17
Awesome God, thank you for my spouse, the gift of our marriage, and the meaning they have brought into my life. You commanded us in your word to submit ourselves to you. To resist the devil, and he will flee from us. 
Hence, I am here to commit my marriage, and the issues my spouse and I are facing to you. I seek divine intervention over our endless marital conflict. 
Lord, it is wearing us out, especially me; it is rearing us apart and robbing us of the peace and joy we used to have. I know the enemy has done this because I am not ignorant of his devices. 
You warned us in your word to be watchful and alert because our enemy, the devil, prowls around like a roaring lion looking for who to devour. You also commanded us to resist him, standing firm in the faith. 
Standing in the name of Jesus Christ, His shed blood, and His finished work on the cross, I declare judgment against the enemy risen to scatter my marriage and family. 
Safeguard my marriage and home from the enemy's wiles and strategies. Give your angels charge over us to keep us in all our ways. 
In your word Father Lord, you said you would repay us for the years the locusts have eaten the great locust, and the young locust, the other locusts, and the locust swarm my great army that you sent among us. Therefore, I ask that you restore everything we have lost in the past. 
Above all, restore bliss to our marriage only to the glory of your name and the devil's shame. 
In Jesus' victorious name, I pray, Amen!
11. Prayer for Grace to Forgive Marital Infidelity. 
I can do all this through him who gives me strength.-Philippians 4:11–13
Our Father in Heaven, I am broken by the issues of my marriage. My partner has resorted to infidelity, and it has been so hard to let go and forgive. 
Dear God, I know you understand my grief, so I ask that you give me the grace to forgive my husband and allow him full access to my heart and body again. 
Lord, it has also been so hard to start with him again after his unfaithfulness. But I ask that you help us work things out. Grant me strength and grace to forgive him completely. 
Just as you commanded us to be kind and compassionate to one another, forgiving each other, just as in Christ you forgave us, I ask that you help me observe to do this and live it out. 
In the name of the Lord Jesus Christ, Amen!
12. Prayer for Mistrust in Marriage. 
Her husband has full confidence in her and lacks nothing of value. -Proverbs 31:11
Most High God, I come before your throne of grace today to seek your help with my relationship. My partner and I no longer trust each other like we used to because of past and recent happenings.
I come before you today to ask that you remove the mistrust between us and restore trust in our relationship. Strengthen us to believe in each other so that our marriage will no longer be built on so much deceit and lies. 
Lord, as you restore trust in our marriage, rekindle the love we had for each other. Fill our relationship again with perfect love and understanding. Fill our lives with joy and laughter. Let the old flame of passion be sparked afresh like nothing we have ever experienced. 
In Jesus' name, Amen!
13. Miracle Prayer for Marriage Restoration. 
Instead of your shame, you will receive a double portion, and instead of disgrace, you will rejoice in your inheritance. And so you will inherit a double portion in your land, and everlasting joy will be yours.-Isaiah 61:7
Lord Jesus, thank you because the plans you have for us, as you declared, are plans to prosper us and not to harm us, plans to give us hope and a future. I do not take for granted that you blessed me with the most amazing spouse.
We have both been through a lot, and our strength, however, appears diminished as a result of the many challenges we have had to face. 
Lord Jesus, I miss how all lovey-dovey we used to be with each other, but things seem to have gone very sour. Hence, I call to you our ever-present help in our time of need. Things have been so rough between us.
There is less laughter and love with each passing day; that's why I ask for a miraculous turnaround in our relationship and divine restoration in our marriage. 
Loving God, do what no one can do for us and make us completely whole again. 
In the Mighty Name of Jesus, Amen. 
14. Prayer for Marriage Under Attack. 
Behold, I have given you authority to tread on serpents and scorpions and over all the power of the enemy, and nothing shall hurt you. – Luke 10:19
Almighty God, the Bible affirms that you are faithful, and you will strengthen us and protect us from the evil one. Today, I commit my marriage that's under satanic attack to you. 
Scripture says whatever I bind on earth will be bound in heaven, and whatever I lose on earth will be loosed in heaven. Therefore, I bind the enemy troubling my marriage and cast him into the lowest part of hell.
Lord, you said you would cause my enemies who rise against me to be defeated before me. You also said they should come out against me one way and flee before me seven ways.
Therefore, I receive the power to put the enemy of my marital glory to flight. I quench all their fiery darts in the Mighty name of Jesus. 
By faith, I declare that it is well with my marriage physically, spiritually, financially, emotionally, and otherwise. 
In Jesus' name, Amen. 
15. Prayer for Healing a Troubled Marriage. 
The Lord is close to the brokenhearted and saves those who are crushed in spirit. -Psalm 34:18
Most Gracious God, you gave an open invitation to all who are weary and burdened to come to you, and you will give us rest. I have come before you today asking for the divine healing of my troubled marriage. 
Lord, you are the only one who is compassionate and has the power to heal and mend every broken heart. I request that you heal my marriage and mend the broken pieces of our hearts. 
Cause love, peace, unity, and joy to flood our marriage from now on. There is nothing impossible with you, dear Lord. Your word also tells me that you are the God of all flesh whom nothing is difficult for. Therefore, I ask that you grant us a miraculous recovery from all the hurt in our hearts. 
Give us a fresh start and make everything new and beautiful between us. Most of all, please give us the strength to keep fighting for our marriage. 
Thank you, Great God, for hearing my prayers and granting these requests. 
In the Mighty Name of Jesus, Amen!
What God Says About Troubled Marriage? 
Are you are troubled wife or husband seeking biblical advice for marriage problems? 
Here are God's words concerning a troubled marriage: 
John 14:1, NIV – Do not let your hearts be troubled. You believe in God also believe in me.
1 Peter 3:1, NIV – Wives, in the same way, submit yourselves to your own husbands so that, if any of them do not believe the word, they may be won over without words by the behavior of their wives. 
Ephesians 5:25, 28, NIV – Husbands, love your wives, just as Christ loved the church and gave himself up for her. 28: In this same way, husbands ought to love their wives as their own bodies. He who loves his wife loves himself.
Colossians 3:19, NIV – Husbands, love your wives and do not be harsh with them.
1 Peter 5:7, NIV – Cast all your anxiety on him because he cares for you.
Hebrews 13:4, NIV – Marriage should be honored by all, and the marriage bed kept pure, for God will judge the adulterer and all the sexually immoral.
1 Peter 3:7, NIV – Husbands, in the same way, be considerate as you live with your wives and treat them with respect as the weaker partner and as heirs with you of the gracious gift of life so that nothing will hinder your prayers.
Psalm 37:5, NIV – Commit your way to the Lord; trust in him, and he will do this. 
Malachi 2:16, NIV – The man who hates and divorces his wife," says the Lord, the God of Israel, "does violence to the one he should protect," says the Lord Almighty. So be on your guard, and do not be unfaithful.
Ephesians 5:33, NIV – However, each one of you also must love his wife as he loves himself, and the wife must respect her husband.
John 14:27, NIV – Peace I leave with you; my peace I give you. I do not give to you as the world gives. Do not let your hearts be troubled, and do not be afraid.
Conclusion 
Marriage problems are not too big for God to handle. After all, He instituted marriage and has the blueprint to make it work regardless of its problems.
The Bible says with God, all things are possible. God's word also says He is able to do exceedingly, abundantly above all that we can ask of Him.
This means there is no marital problem you are going through that God can't fix. You have prayed the above prayers for marriage problems; have faith that He has heard you and will help you.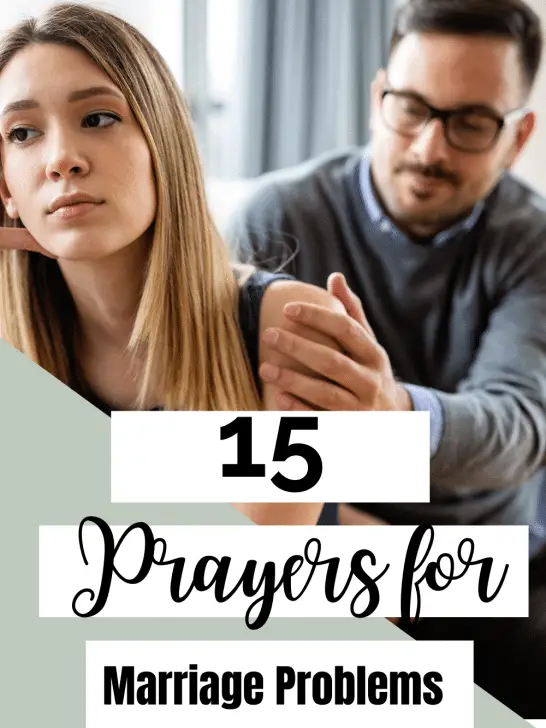 Frequently Asked Questions
1. What Causes Marriage Problems? 
The causes of problems in marriage vary from couple to couple, but it often starts with lack of good communication. Over time, the lack of communication evolves into increased arguing, defensiveness,  contempt, and endless conflict. 
Additional causes of marriage problems include inadequate financial resources, infidelity, infertility, unemployment or loss of it, untreated mental illness, unhealthy addictions to substances, gambling,  grief from the loss of a child, the challenges of raising a child with special needs, etc. 
2. What Are the Five Problems of Marriage? 
Some  common marriage problems are but are not limited to:
Poor communication. 
Lack of intimacy and little or no interest in sex by either of the partners. 
Infidelity and lack of willingness to change. 
Irrational jealousy. 
Couple disrespecting each other's boundaries. 
3. What Destroys a Marriage? 
Dishonesty is perhaps the biggest destroyer of marriages. It breeds mistrust which has the potential to end any relationship, including marriage. 
Meanwhile, you should note that apart from dishonesty, many other things can create cracks in a marriage, such as wasteful spending habits, keeping questionable internet relationships, substance abuse, or any kind of unhealthy addiction. 
4. What Are Common Couple Problems? 
Some common problems married couples have include financial pressures, boundary violations, infidelity, difficulty balancing individual differences, communication difficulties, excessively high couple expectations, loss of intimacy, etc. 
5. How Do You Solve Marriage Problems? 
10 top strategies for solving marital problems include:
Frequent and clear communication.
The expression of love. 
Caring for each other physically and emotionally. 
Being sincere with each other.
Sharing responsibilities, ideas, successes, and failures. 
Exercising self-control when provoked.
Living together peacefully. 
Being tolerant toward each other.
Respecting each other's decisions and boundaries.
Putting each other's needs first.