When faced with the issues of a failing marriage, we can quickly become overwhelmed with feelings of defeat and helplessness.
Thankfully, God can heal and restore our relationships regardless of how utterly helpless we may feel. But you have a part to play in all of these.
In this article, I'll walk you through the following:
How to pray for a struggling marriage.
What the Bible says about a failing marriage.
How to pray for God to save your marriage.
15 prayers for a failing marriage.
The Bible verses that help with marriage problems.
Frequently Asked Questions about failing marriages.
With these resources in this article, you can rest assured of God's divine restoration of your troubled marriage, even if it's on the verge of collapsing.
How Do You Pray for a Struggling Marriage?
Marital crises can be disheartening. This makes prayer the most potent tool to end any marital struggle.
The fact that you're here means you're struggling in your marriage or need to help someone who is.
Whether it's the marriage of someone close to you failing or yours, you should constantly pray for:
A heart to love and forgive.
Wisdom and direction.
Renewed love in your marriage.
God's power to keep you grounded in God's word.
God's binding love between you and your spouse.
A trusting heart.
Freedom from anger and resentment.
Meaningful communication with your spouse.
Divine strength, spirit of tolerance, and power to endure.
God's power to persevere.
God's divine intervention and your victory.
Common ground and restored joy.
Unity in thoughts and love.
Courage to sever ungodly relationships and unprofitable friendships.
Humility and submission to God.
What does the Bible say About a Failing Marriage?
James 5:16, NIV – Therefore confess your sins to each other and pray for each other so that you may be healed. The prayer of a righteous person is powerful and effective.
Matthew 5:32, NIV – But I tell you that anyone who divorces his wife, except for sexual immorality, makes her the victim of adultery, and anyone who marries a divorced woman commits adultery.
Romans 7:2, NIV – For example, by law, a married woman is bound to her husband as long as he is alive, but if her husband dies, she is released from the law that binds her to him.
Malachi 2:16, NIV – The man who hates and divorces his wife," says the Lord, the God of Israel, "does violence to the one he should protect," says the Lord Almighty. So be on your guard, and do not be unfaithful.
Matthew 19:9, NIV – I tell you that anyone who divorces his wife, except for sexual immorality, and marries another woman commits adultery.
Acts 8:22, NIV – Repent of this wickedness and pray to the Lord in the hope that he may forgive you for having such a thought in your heart.
Proverbs 10:12, NIV – Hatred stirs up conflict, but love covers over all wrongs.
1 Corinthians 7:10-11, NIV – To the married, I give this command (not I, but the Lord): A wife must not separate from her husband. 11: But if she does, she must remain unmarried or else be reconciled to her husband. And a husband must not divorce his wife.
Ephesians 5:22-25, NIV – Wives, submit yourselves to your own husbands as you do to the Lord. 23: For the husband is the head of the wife as Christ is the head of the church, his body, of which he is the Savior. 24: Now, as the church submits to Christ, so also wives should submit to their husbands in everything. 25: Husbands, love your wives, just as Christ loved the church and gave himself up for her
Ephesians 5:33, NIV – However, each one of you also must love his wife as he loves himself, and the wife must respect her husband.
Hebrews 13:4, NIV – Marriage should be honored by all, and the marriage bed kept pure, for God will judge the adulterer and all the sexually immoral.
How Do I Pray for God To Save My Marriage?
Being in a marriage that's full of conflict is exhausting. But thankfully, the confidence we have in approaching God is that he hears us if we ask anything according to his will.
And if we know that he hears us—whatever we ask—we know that we have what we asked of him. In other words, God can heal and restore your relationship regardless of how broken it is.
In your darkest moments of pain and despair, you can cry out to Him, and He will fix what's broken in your relationship that neither you nor your partner can.
When those familiar feelings of hurt, unforgiveness, guilt, and negativity begin to weaken your love for your partner, it's time to open God's word and pray to save your failing marriage so that it doesn't become part of the statistics for divorce.
Perhaps you're wondering when to stop praying for marriage restoration; I would like you to know there's no time to stop. The demise of a spouse is the only time and reason anyone whose marriage is failing or has failed should stop praying for its restoration.
This only means that it's never too late for God to save your marriage as long as your partner is still alive. It doesn't matter if you're separated or divorced; God can always restore your marriage if you persist in prayer.
Yes, I'm affirming that God can and will restore your failing or broken marriage if only you will pray and trust Him to do it. Still doubtful if God can restore your failing, struggling, or broken marriage?
Here Are 15 Prayers for A Failing Marriage You Should Pray to Save Your Marriage.
1. Prayer for a Deeply Troubled Marriage.
Now to him who is able to do immeasurably more than all we ask or imagine, according to his power that is at work within us. – Ephesians 3:20
Most high and everlasting Father, thank you so much for instituting marriage. Thank you for the people you have blessed through beautiful unions.
Dear Lord, I lift myself and my spouse into your precious hands, asking that you strengthen us to fight for our marriage. I ask that you strengthen us to fix our failing marriage before it crumbles.
Heal us so we can thrive once again in Jesus' mighty name. Fill our hearts with love for each other and remind us how we started well so we can do what we can to survive this storm.
Thank you, Lord, that you can strengthen what seems weak and beyond repair. Likewise, you can make us whole again.
In Jesus' Mighty name, Amen.
2. Prayer for Marriage Under Attack.
 Let us then approach God's throne of grace with confidence so that we may receive mercy and find grace to help us in our time of need. – Hebrews 4:16
Dear Lord Jesus, I come to you today to pray for my marriage which seems to seek divine intervention my marriage that's under attack and about to hit the rocks.
Father Lord, you promised in your word that you'd fight for me, and I will hold my peace. Therefore, I ask that you wage war against the enemy trying to sabotage my marriage. Discomfort them and restore the love and the bond of my husband that once existed between us.
Awesome God, please help us fix our marriage. Even though it seems we have failed, I know that with you, there's nothing impossible. Therefore, I request that you help us, dear Lord.
In Jesus' name, Amen!
3. Emergency Prayers for Marriage Restoration.
I will repay you for the years the locusts have eaten the great locust, and the young locust, the other locusts, and the locust swarm the great army that I sent among you. -Joel 2:25
Heavenly Father, I come before you today, asking for the divine restoration of my marriage. Dear Lord, my marriage was going well from inception, but things suddenly went off. I fear it will crash completely in no time if you don't help me.
So, I ask that you please restore my marriage. Let it be strong once again. Cause my partner and me to experience joy, love, peace, and understanding between us.
Father God, take us back to the loving and beautiful relationship we once had. Restore my once beautiful marriage, dear Lord, in Jesus' mighty name, Amen!
4. Prayer to Save Marriage from Divorce.
Heal me, Lord, and I will be healed; save me, and I will be saved, for you are the one I praise. -Jeremiah 17:14
Most Gracious and Everlasting Father, I am grateful to have the privilege to come before your throne of grace with my difficulties and challenges. I'm forever grateful that you always hear me when I call.
Sovereign Lord, I ask that you please repair my failed marriage. Lord, please help us fix our broken pieces, most especially the broken pieces of this marriage.
Please make our marriage whole and good as new. I know you are the only one that can help my partner and me resolve our differences, so help us, dear God and do that which no man can do for us.
In Jesus' mighty name, Amen!
5. Midnight Prayers for Marriage Restoration.
The Sovereign Lord is my strength; he makes my feet like the feet of a deer, and he enables me to tread on the heights. -Habakkuk 3:19
Dear Lord, you commanded us to come before your throne of grace to obtain mercy to help us in time of need. Tonight, I'm before your throne of grace to ask for Strength amid this marital crisis.
Lord, I have become weak from fighting too hard to save my marriage. Even though I know you are helping me and you are with me, I feel overwhelmed and exhausted from the problems I have had to deal with in this marriage.
Please, dear Father, strengthen me physically, spiritually, emotionally, and mentally to keep fighting to save my marriage from falling apart.
Thank you, Gracious God, because I know you have heard me.
In Jesus' mighty name, Amen!
6. Prayer for Wisdom in a Failing Marriage.
 If any of you lacks wisdom, you should ask God, who gives generously to all without finding fault, and it will be given to you. -James 1:5
 Father of All Wisdom, I adore you from the depth of my heart because you deserve it. Despite my challenging marriage, I know you will imbue me with your wisdom to surmount every problem my spouse, and I are having.
Lord Jesus, grant me the wisdom to know what to do to save my troubled marriage. Fill me with grace and the wisdom to know what to say, when, and how to say it.
I also ask that you make me wise enough to know what to do, when, and how to do it. And at the end of it all, may there be a positive result in my relationship.
In Jesus' name, Amen!
7. Prayer for My Parents' Failing Marriage.
Come to me, all you who are weary and burdened, and I will give you rest. -Matthew 11:28
Heavenly Father, thank you so much for my parents and how amazing they have been to me. They mean the world to me; I'm standing in the gap for them and their failing relationship.
Father, they've been together for too long to go their separate ways. I know the enemy is responsible for the friction they've been having. That's why I ask that you intervene and save their deteriorating relationship.
Dear Lord, I know they are working hard to put up a strong front like everything is fine. But I see how things are slowly falling apart between them. Therefore, I ask that you intervene and save their marriage from ending abruptly, like many I know.
Thank you, Loving God, because I believe you will keep my parents together.
In Jesus' mighty name, Amen!
8. War Room Prayers for Marriage Restoration.
He got up, rebuked the wind, and said to the waves, "Quiet! Be still!" Then the wind died down, and it was completely calm. -Mark 4:39
Lord Jesus, thank you because you are the only one that can command peace in a storm. I ask that you speak calmness and restoration to my broken marriage.
Scripture says you will contend with them that contend with me. Therefore, I ask that you arise against the power speaking destruction to my marriage. End their manipulation of my relationship and end all the marital issues we are having.
Cover my home and relationship with your precious blood and shekinah glory so that the enemy will no longer have access to our lives. Restore the sweetness that once existed between my spouse, wife, and me.
In Jesus' name, Amen!
9. Prayer for My Daughter's Failing Marriage.
And the God of all grace, who called you to his eternal glory in Christ, after you have suffered a little while, will himself restore you and make you strong, firm, and steadfast. -1 Peter 5:10
Everlasting God, I lift my daughter's marriage into your precious hands. You know, the last thing I want for my child is for her to end up with a broken marriage, divorced or separated. That's why I plead that you step in and do for her what I can't even do as a parent.
 Lord Jesus, I know there's no impossibility with you; that's why I ask that you prove yourself in my child's marriage and save it from divorce where it's headed. Restore the love, joy, and peace they once had. Let there be understanding and oneness between her and her husband.
In Jesus' name, I pray, Amen!
10. Prayer for My Son's Failing Marriage.
Jesus looked at them and said, "With man this is impossible, but with God all things are possible." -Matthew 19:26
Awesome God, I pray for my son's marriage, asking that you please help him and his wife resolve the issues eating up their marriage.
As the head of his home, fill him with the wisdom and humility he needs to fix the issues in his home. I also ask that you strengthen him and provide him with whatever he needs to fight to keep his marriage.
Lastly, I pray that marital troubles will not overwhelm him or his wife to the point where they will want to give up. Speak peace and healing to their relationship.
In Jesus' mighty name, Amen!
11. Prayers for a Failing Marriage Due to Delay in Childbirth.
Has not the one God made you? You belong to him in body and spirit. And what does the one God seek? Godly offspring. So be on your guard, and do not be unfaithful to the wife of your youth. – Malachi 2:15
Compassionate God, I pray for marriages that are failing due to delayed childbirth. Scripture says through faith also Sara herself received strength to conceive seed and was delivered of a child when she was past age because she judged him faithful who had promised.
Abba Father, this means that regardless of how long it has taken already, you can visit these expectant couples with their bundles of joy.
You promised that none would be barren among us; that's why I have faith that every childless couple will carry their own babies and nurture them. Until you make good your promise, I ask that you help them keep loving each other and living their best lives.
Constantly remind them that you are the God of all impossibilities. Hence, nothing is difficult for you. May you sustain their marriages with the blessed hope of this unfailing promise.
In Jesus' mighty name, Amen!
12. Prayer for Your Broken Marriage.
I will repay you for the years the locusts have eaten— the great locust and the young locust, the other locusts and the locust swarm— my great army that I sent among you. -Joel 2:25
Merciful God, your word says by wisdom, a house is built, and through understanding, it is established. Mine lacked this, and now it's broken. However, I have faith that you can fix that which is broken and restore that which is lost.
So, today, I ask that you restore my already failed marriage. To man, this might seem impossible, but with you, I know it is possible. Therefore, I ask that you do the impossible in my relationship and restore it to wholeness.
As you restore us, Lord, I ask that my partner and I will understand each other. Give us the grace to maintain a loving and peaceful disposition toward each other.
In Jesus' mighty name, I pray, Amen!
13. Prayer to Break the Cycle of Failing Marriages.
So, if the Son sets you free, you will be free indeed. – John 8:36
In the name of Jesus, I break every cycle of failing marriages in my family. I raise a seven-field standard against every demonic altar, speaking destruction against the success of marriages in my family line.
I pull down any altar raising its ugly head, successful marriages in my family to make them like the failed ones. Dear Lord, your word says whomever you have set free is free indeed. I stand on your word and declare that my marriage and family are free from this satanic stronghold.
In Jesus' mighty name, Amen!
14. Prayer Against Marriage Failure Due to Trauma.
The Lord is close to the brokenhearted and saves those who are crushed in spirit. -Psalm 34:18
Dear Lord Jesus, I pray for marriages failing due to past traumas. Please heal couples suffering from trauma and restore their troubled marriage. Speak healing to the minds and hearts of the traumatized partners in the name of Jesus. May their marriages have a miraculous turnaround.
Thank you, Gracious God, for granting answers to these prayer requests.
In Jesus' mighty name, Amen!
15. Miracle Prayer for Marriage Restoration.
A thousand may fall at your side, ten thousand at your right hand, but it will not come near you. – Psalm 91:7
Faithful God, your word says whosoever digs a pit will fall into it, and to him that rolls a stone, the same shall be rolled back to him. Standing on this unbreakable decree, I fire back every arrow of marriage failure fired into my marriage.
I pronounce judgment upon the powers and forces of darkness contending with the peace and success of my marriage. By the power in the name of Jesus, I declare that my marriage is divinely protected from arrows of darkness.
In Jesus' mighty name, I declare, Amen!
What Bible Verses Help With Marriage Problems?
Here are 10 Bible verses to help with marriage problems:
Isaiah 43:2, NIV – When you pass through the waters, I will be with you; and when you pass through the rivers, they will not sweep over you. When you walk through the fire, you will not be burned; the flames will not set you ablaze.
Proverbs 13:10, NIV – Where there is strife, there is pride, but wisdom is found in those who take advice.
Proverbs 15:1, NIV – A gentle answer turns away wrath, but a harsh word stirs up anger.
1 Corinthians 13:4-8a, NIV – Love is patient, love is kind. It does not envy; it does not boast; it is not proud. 5: It does not dishonor others, it is not self-seeking, it is not easily angered, and it keeps no record of wrongs. 6: Love does not delight in evil but rejoices with the truth. 7: It always protects, always trusts, always hopes, and always perseveres. 8: Love never fails.
Galatians 6:2, NIV – Carry each other's burdens, and in this way, you will fulfill the law of Christ.
Ephesians 4:32, NIV – Be kind and compassionate to one another, forgiving each other, just as in Christ God forgave you.
Ephesians 5:25-29, NIV – Husbands, love your wives, just as Christ loved the church and gave himself up for her 26: to make her holy, cleansing her by the washing with water through the word, 27: and to present her to himself as a radiant church, without stain or wrinkle or any other blemish, but holy and blameless. 28: In this same way, husbands ought to love their wives as their own bodies. He who loves his wife loves himself. 29: After all, no one ever hated their own body, but they feed and care for their body, just as Christ does the church.
Colossians 3:12-14, NIV – Therefore, as God's chosen people, holy and dearly loved, clothe yourselves with compassion, kindness, humility, gentleness, and patience. 13: Bear with each other and forgive one another if any of you has a grievance against someone. Forgive as the Lord forgave you. 14: And over all these virtues put on love, which binds them all together in perfect unity.
1 Peter 4:8-9, NIV – Above all, love each other deeply because love covers over a multitude of sins. 9: Offer hospitality to one another without grumbling.
Hebrews 10: 24, NIV – And let us consider how we may spur one another on toward love and good deeds,
Conclusion
A prayer for a troubled marital relationship or marriage in crisis is essential to avoid total marriage failure or divorce, which is not from God, nor his plan for any of His children.
Regardless of the situation in your marriage, God can fix everything that's broken and make your relationship whole again. As you pray these Prayers for a Failing Marriage, trust God to intervene in your marriage.
I also encourage you to share your testimonies with us here on the Pray Warrior to encourage someone out there who thinks it's over.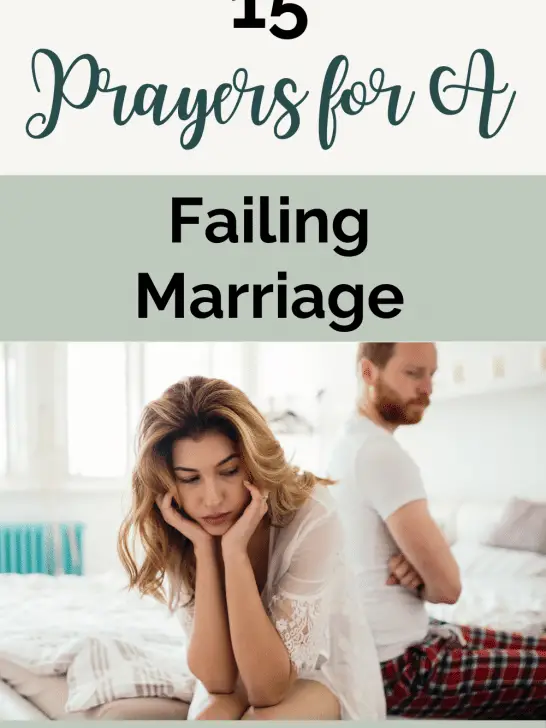 Frequently Asked Questions
If your marriage is on the brink of collapsing, here's what you should know to take the right step to save your marriage:
1. What are the main causes of marriage failure?
The top reasons marriages fail include:
Infidelity by either party.
Lack of communication.
Spouse unresponsive to needs.
Financial problems.
Incompatibility.
Emotional abuse, etc.
2. What Are the Signs of a Failing Marriage?
It's difficult to pinpoint why some marriages fail because no two marriages are identical. However, some signs indicate that your marriage is falling and may crash if they are not quickly fixed.
These signs include:
The expression of contempt of one spouse toward the other or both exhibiting the same.
One or both partners loses interest in sex.
Constantly criticizing each other's actions, decisions, and intentions.
Being overly defensive around each other.
Refusing to listen or speak to your spouse or to each other.
Considering an extra-marital relationship or affair.
3. What is the Biggest Problem in Marriages?
The biggest problem in marriages and the most common complaint among married couples is basically lack of communication. Often, many couples put up with problems instead of fixing them.
The communication issue here maybe not listening to each other's complaints without getting defensive, interrupting, or not reaching any meaningful agreement.
4. What is the Number One Reason Marriages Break Up?
Infidelity is the number one reason for a failed marriage. However, different couples respond to marital infidelity differently. For instance, while some couples may have a more permissive or open approach to extra-marital affairs, others do not.
More often than not, infidelity in marriage is the major cause of broken trust, hurtful feelings, and potentially irreconcilable differences. Hence, it's no surprise, then, that marital infidelity is the leading cause of failed marriages and divorce.
5. What to Do in a Struggling Marriage?
A lot of effort can be put into saving a failing or struggling marriage, but the most results-oriented approach will be to:
Keep divorce off the table.
Stop trying to change your partner.
Lean on God and the power of faith to get your marriage through.
Keep holding on to each other—especially because of your children.
Seek support from people you know will help you fight for your marriage.
Know that choosing to stay and fight for your marriage is worth it.