Sleep is as essential to the body as food and water are. If you do not get the right amount of sleep, it can affect your productivity and overall health. So, every person must maximize their nights and get sufficient sleep.
Even God too wants you to be at your best at all times. However, this will be impossible if you do not get adequate rest daily, especially at night.
Perhaps, you, your family, friend, or loved one is having trouble sleeping; then these good night prayers for sleep are for you. You will find some effective good night prayers for sleep in this article.
Below Are Good Night Prayers for Sleep.
1. Good Night Prayer for Sleep.
James 1:17 (NIV) – Every good and perfect gift is from above, coming from the father of the heavenly lights, who does not change like shifting shadows.
Everlasting Father, your word says every good and perfect gift comes from you. And I'm grateful to you for all the good things of life that you have blessed your creations with. Most especially, the wisdom of creating the night time for our rest.
Dear Lord, you made the night for rest and rejuvenation. Therefore, I ask that you enable me to sleep well as I should tonight. I also ask that you keep watch over me as I go to bed. And most of all, secure my home and fill it with your loving presence.
In Jesus' name, Amen.
2. Prayer for a Good Night's Sleep.
Philippians 4:7 (NIV) – And the peace of God, which transcends all understanding, will guard your heart and your minds in Christ Jesus.
Abba Father, today is wrapping up, and I'm ready to turn in. But before I do, I would like to thank you for protecting and preserving my life throughout the day. Thank you for watching over me and ordering my steps.
As I go retire for the night now, I ask that you relax the tension in my body. Make me calm enough to get a restful and refreshing sleep. Instead of staying awake because of worry, but help me rest my problems in your loving and capable hands.
In Jesus' name, Amen.
3. Good Night Prayer for Peaceful Sleep.
Isaiah 26:3 (NIV) – You will keep in perfect peace those him whose mind is steadfast because he trusts in you.
Almighty Father, you promised to keep those whose hearts are steadfast on you in peace. Please honor your word in my life and fill me with your peace. Calm the restlessness of my heart and stop my spiraling thoughts.
Let your peace that passes all understanding fill my heart and mind. I also ask that you still every worrisome thought that constantly keeps me on edge when others are asleep.
Please enable me to sleep tonight, dear Lord, and let my sleep be peaceful and sound.
In Jesus' name, Amen.
4. Good Night Prayer for Her to Sleep.
Psalm 139:8 (NIV) – If I go to the heavens, you are there; if I make my bed in the depths, you are there.
Sovereign Lord, I pray for ___, may this night fill her heart with peace and tranquility. I ask that she will enjoy comforting and sweet sleep as you give rest to her mind and body. Also, assure her of your love and lure her to sleep with a calm reminder that you are still in charge so she can rest peacefully.
Lord, even as she sleeps, renew her strength. Ease off the stress and tension in her body and bones. May she be rejuvenated and refreshed to face the day ahead of her. Lastly, I pray that tomorrow will bring her renewed hope and divine inspiration.
In Jesus' name, Amen.
5. Best Prayer for Good Night Sleep.
Psalm 42:8 (NIV) – By day the Lord directs his love, at night his song is with me – a prayer to the God of my life.
Dear Heavenly Father, I ask that you envelop me in your loving hands as I lay down to sleep. May your tender hands soothe me to comforting and blissful sleep. I also ask that you help me rest without any worry whatsoever.
Grant me sound and peaceful sleep tonight like a baby without a care in the world. Fill my heart with a new song and joyful songs of praise that will lure me to a beautiful dream state.
Finally, I humbly ask that you protect me throughout the dark hours of the night.
In Jesus' name, Amen.
6. Prayer for Baby's Good Night Sleep.
Proverbs 3:24 (NIV) – When you lie down, you will not be afraid; when you lie down, your sleep will be sweet.
Good Shepherd, thank you for this bundle of joy you blessed my family with. While she can be so adorable, she can be a handful because of her restlessness at night. Please, let tonight not be another night to keep vigil over her.
I ask that you make her sleep soundly throughout the night. Please make her dream pure and beautiful. Bless her room and the very bed she lies on.
Most importantly, I ask that you set your angels in the four corners of the room.
In Jesus' name, Amen.
7. Night–time Prayer for Sleep.
Psalm 63:6 (NIV) – On my bed, I remember you; I think of you through the watches of the night.
Eternal One, as I lay in bed, my mind recalls your faithfulness and goodness. Tonight, my mouth is filled with thanksgiving, and my heart is grateful for your mercy and grace. As I lay down now to rest, I can't but help to thank you for yet another day that turned out so well.
You led me out safely this morning and ordered my feet back home in peace. I do not take for granted your great kindness toward me.
Dear Father, I ask yet again that you watch over me as I retire for the night. Grant me a relaxing sleep and set me free from all the stress of the day.
And lastly, may my sleep be sound and rewarding to my mind and body.
In Jesus' name, Amen.
Related: 15 Best Good Night Prayers for Family and Friends.
8. Prayer for Good Night Sleep and Protection.
Psalm 121:7 (NIV) – The Lord will keep you from all harm- he will watch over your life.
Gracious Father, your word says they that dwell in your secret place will abide under your shadow. Therefore, I ask that you make me dwell in the secret place of your tabernacle. Keep me away from the dangers of the night.
I also ask that you watch over my home and keep us from all harm. Set your angels on guard round about my home and give them charge over us as we sleep.
Most importantly, I ask that you surround me with your presence even as the mountain surrounds Jerusalem.
In Jesus' name, Amen.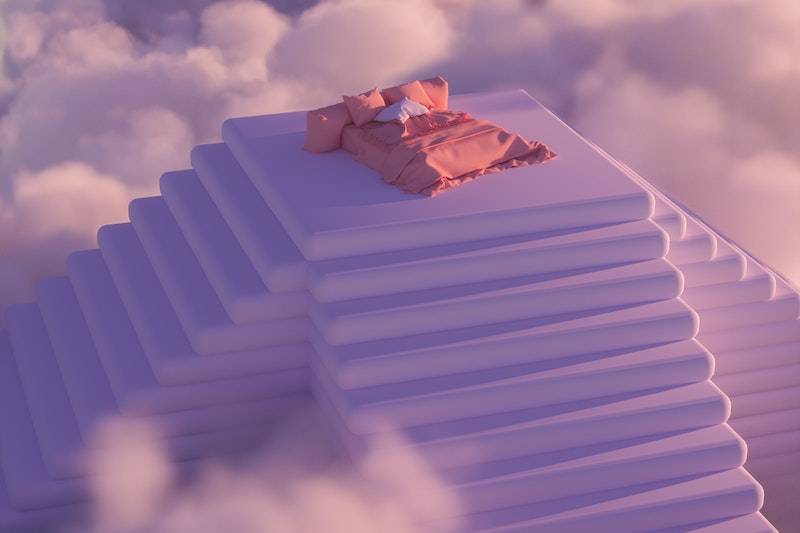 9. Good Night Prayer Before Sleep.
Psalm 4:8 (NIV) – I will lie down and sleep in peace, for you alone, O Lord, make me dwell in safety
Awesome God, as I go to bed tonight to sleep, I ask that my sleep be sweet and sound. I have had a stressful day that has left me tensed and restless. So, I ask that you help me sleep peacefully.
Please guard my heart and mind against recounting all the challenges I encountered during the day. Most of all, set me free from worry and fill me with hope for a better tomorrow.
In Jesus' name, Amen.
10. Best Prayer for Bedtime.
1 Peter 3:12 (NIV) – For the eyes of the Lord are on the righteous, and his ears are attentive to their prayer, but the face of the Lord is against those who do evil.
Mighty God, tonight I ask that you cover me with your hands of love. Wrap me in your faithfulness and wash over me with your love and peace. Sustain me as I sleep tonight and wake me up to the beauty of the morning sun.
Be with me through the cause of the night and cover me with your protective wing. Above all, allow me to sleep with beautiful melodies of praise in my heart and wake up with a joyful smile.
In Jesus' name, Amen.
11. Night–time Prayer Before Sleep.
Psalm 121:4 (NIV) – Indeed he who watches Israel neither slumbers nor sleeps. The Lord watches over you, the Lord is your shade at your right hand.
Dear God, it gladdens my heart to know that you are up all night long watching over me. I go to bed knowing that no harm will befall me neither will any evil come near my home.
As I turn in for the night, I ask, dear Lord, that you renew my strength. Refresh and re-energize me emotionally, spiritually, and physically. Lastly, may my sleep be rewarding so I can wake up refreshed and ready to start a new day.
In Jesus' name, Amen.
12. Good Night Prayer for Sleep Deprivation.
Matthew 11:28 (NIV) – Come to me all you who weary and are burdened, and I will give you rest
Eternal God, you know that sleep is vital for me to function well, especially during the day. Lately, I have noticed that I'm getting less sleep. Not because I want it that way but because my sleep is always disturbed, which disrupts my sleep.
Lord, I pray that tonight will be different. Enable me to sleep peacefully like a baby till dawn without any interruption. Calm my mind and environment and shut my mind completely to the noise around my home till I get the much-needed sleep.
And lastly, please give me the wisdom and grace to adhere to a good sleeping pattern.
In Jesus' name, Amen.
Related: 15 Best Prayers for Protection While Sleeping.
13. Good Night Prayer for Sleep Disorder.
Psalm 55:22 (NIV) – Cast your care to the Lord, and he will sustain you. He will never let the righteous fall.
Heavenly Father, I have been diagnosed with a sleep disorder. This means I rarely have a restful sleep which affects my productivity during the day. I come humbly before you tonight, asking that you have mercy on me and heal me of this disorder.
Lord, I cast my care on you now, asking that you bless my nights with sleep. I don't want to be dependent on pills to be able to sleep anymore because it fails sometimes. So, I ask that you heal me so that from now on, I can sleep peacefully and soundly.
In Jesus' name, Amen.
14. Daily Good Night Prayer.
Matthew 6:34 (NIV) – Therefore do not worry about tomorrow, for tomorrow will worry about itself. Each day has enough trouble of its own
Faithful God, sometimes, when I should be asleep, I find myself worrying about my future. I know I shouldn't give in to doubt and worry about tomorrow, but I can't help it sometimes. So, I ask that you teach me daily to trust you with my life and future.
Also, help me rest in knowing that you have wonderful plans for my future. I also ask that you help me keep my gaze focused on you; teach me daily to lean and trust in you. And above all, I ask that you bless my nights with peace and sweet sleep.
In Jesus' name, Amen.
15. Sleep Prayers for Adults.
Psalm 127:2 (NIV) – In vain you rise early and stay up late, toiling for food to eat, for he grants sleep to those he loves.
Gracious Lord, even though life can sometimes be challenging, I choose to rest on your unfailing grace. I surrender all my worries, fears, anxieties, and expectations to you tonight. I let go of all that burdens my heart and mind and ask that you take over.
Abba Father, I choose to lean on you and rest in your embrace's warmth. I ask that you take care of me and help me rest in the assurance that you are able. As I let go of all that troubles me tonight, I ask that you bless me with sleep.
In Jesus' name, Amen.
Conclusion
God still works miracles today as He did in the beginning. There is no situation He can't fix. So, if you have any difficulty sleeping, especially at night, then talk to God about it with these good night prayers for sleep.