Do you know God can heal your marriage regardless of how broken it is?
Your marriage may have hit rock bottom, and it appears no miracle can save what's of your relationship. But here's an exciting truth: God can heal your marriage and restore it to a better state than it was at its inception.
I urge you to stick with me till the end of this article as I walk you through the following:
What Does God Say About Fixing a Broken Marriage?
How to Strengthen Your Marriage Through

Prayer?

How Do I Pray for God to

Save My Marriage?

15 Prayers for Marriage Healing.
Answers to Frequently Asked Questions
But first, let's see what God says about fixing a broken marriage.
What Does God Say About Fixing a Broken Marriage?
The Bible is filled with wisdom for godly living and fixing any aspects of our broken lives, including marriage.
Here are some words of God from selected Bible verses concerning fixing different aspects of a broken marriage:
How to Strengthen Your Marriage Through Prayer?
Prayer is a powerful tool that we can use to strengthen our marriages.
The following are ways to strengthen your marriage through prayer:
Believe that your marriage is not beyond redemption.
Embark on fervent prayers for God's intervention over your marriage.
Read Bible verses about marriage and healing and meditate on them.
Pray Scripture prayers for marriage restoration.
P

ray together

with your spouse as often as possible.
Commit to fasting and praying for your marriage's health and spiritual well-being.
Trust God for the desires of your heart concerning your marriage.
How Do I Pray for God to Save My Marriage?
Prayer is simply a conversation with God. We interact with our earthly parents the same way God wants us to talk to Him about all our problems and on-goings in our lives.
Likewise, if you are experiencing marital challenges and you desperately need to pray for God to Save your marriage, here's a guide:
Believe that God has the power to save your marriage.
Confess your sins to Him and ask His forgiveness and cleansing that will stop you from receiving from Him.
Pray for your spouse and marriage, believing God for divine intervention.
Ask the Lord to transform you so you can become a better person.
Tell God about your weaknesses, struggles, and shortcomings, and ask for strength.
Seek reconciliation with your spouse where there are grievances.
Believe God has heard your prayers.
Expect a miraculous turnaround in your marriage.
Perhaps you are ready and committed to praying for your marriage out of crises and healing but don't have the words to do this.
I took the liberty to provide you with some powerful prayers for marriage restoration and healing.
Here Are 15 Prayers for Marriage Healing
Prayers for Healing a Broken Marriage.
 Heal me, O Lord, and I shall be healed; save me, and I shall be saved, for you are my praise. – Jeremiah 17:14
Dear God, thank you much for instituting marriage and the purpose you had in mind when you established it. You meant for it to be good and something beautiful to be enjoyed.
Today, I commit my broken marriage to you, asking that you turn it around. Please, Father, show yourself strong in my already failed relationship.
The Bible assures me you can do immeasurably more than all we ask or imagine, according to your power at work in us.
Therefore, I ask that you prove yourself and heal this marriage that appears to be irredeemable to the glory of your name.
In Jesus' mighty name, Amen!
Scripture Prayers for Marriage Restoration.
Come, let us return to the LORD. He has torn us to pieces, but he will heal us; he has injured us, but he will bind up our wounds. – Hosea 6:1
Though you have made me see troubles, many and bitter, you will restore my life; from the depths of the earth, you will again bring me up. You will increase my honor and comfort me once more. – Psalms 71:20-21
Instead of your shame, you will receive a double portion, and instead of disgrace, you will rejoice in your inheritance. And so, you will inherit a double portion in your land, and everlasting joy will be yours. – Isaiah 61:7
Powerful Prayer for Marriage Restoration.
But I will restore you to health and heal your wounds,' declares the LORD, 'because you are called an outcast, Zion, for whom no one cares. – Jeremiah 30:17
Dear Heavenly Father, according to your unfailing promise, please heal my marriage and restore it completely. I know there is nothing much left in this broken relationship, but I believe you can do the impossible.
Please let all things fall in place once again. As you turned the bitter water of Marah to sweet, please remove everything tearing us apart and heal us.
Let the same power that raised Jesus from the dead be activated in my marital relationship to bring newness to us.
Thank you, Lord God, for answered prayers
In Jesus' name, Amen!
Prayer for Healing a Struggling Marriage.
Jesus looked at them and said, "With man this is impossible, but with God all things are possible." -Matthew 19:26
Dear Father, you commanded us to give thanks in everything. So, thank you so much for my marriage, including the struggles I have had to go through.
Abba Father, my marriage has so many issues that it appears in-fixable. But I know you can restore it.
Scripture says many are the afflictions of the righteous, but the Lord delivers from them all. Please heal my relationship that's on the verge of collapsing.
In Jesus' mighty name, Amen!
Intercessory Prayer for Marriage.
Therefore, I tell you, whatever you ask for in prayer, believe that you have received it, and it will be yours. -Mark 11:24
Dear God, I lift broken marriages or on the verge of falling apart. Please heal and keep them together by your grace.
Help couples with too many issues or who have already separated find their way back again.
Look upon the pain and suffering of couples and alleviate their struggles. Rebuke the enemy for working against marriages and sowing tears in the lives of couples.
Speaking healing their relationships and restoring love, joy, and bliss in their marriages.
Thank you, Father Lord, because marriages will begin to reflect your purpose for instituting it.
In Jesus' Mighty name, Amen.
War Room Prayers for Marriage Restoration.
The LORD will grant that the enemies who rise up against you will be defeated before you.
They will come at you from one direction but flee from you in seven. – Deuteronomy 28:7
Almighty God, the Bible says the thief comes only to steal, kill, and destroy, but you have come that we may have life and have it to the full.
The enemy is threatening to steal the joy out of my marriage like it's his specialty too. According to your words, cause my marriage to experience the abundant life you offer.
Scatter the enemy that's risen the peace of my marriage and home. Your word says whatever we ask for in prayer, we should believe that we have received it, and it will be ours.
Therefore, I ask that you heal my marriage and make it brand new. Revive the love between my wife and me and make our marriage beautiful again.
In Jesus' mighty name, Amen!
Prayer for Forgiveness.
Be kind and compassionate to one another, forgiving each other, just as in Christ; God forgave you. -Ephesians 4:32
Father Lord, as my husband and I, strive to build a stronger marriage, teach us to forgive each other for all offenses.
Help us extend grace to each other and grant us the strength to hold fast to our marital vows.
As we promised to love, honor, and cherish each other if we both shall live, grant us the grace to uphold this vow. Teach us to love the way we should, with kindness, patience, forgiveness, and grace.
Heal my marriage from every form of bitterness and resentment. Fill my partner and I with compassion so we will always choose forgiveness over grudges.
In the name of Jesus Christ, Amen!
Spiritual Warfare Prayers for Marriage.
Behold, I have given you authority to tread on serpents and scorpions and over all the power of the enemy, and nothing shall hurt you. – Luke 10:19
Sovereign Lord, thank you because you said no weapon that is formed against me would prosper; and you will condemn every tongue that accuses me in judgment. I ask that you safeguard my marriage from the preying eyes of the enemy.
Consume the powers trying to sabotage my marital relationship by constantly causing between my spouse and me. Disappointing their devices overshadow my marriage and home with your hand of protection.
Remove the awkwardness between us and restore the love we used to have for each other.
Lastly, heal this marriage from all the hurt we have caused each other.
In Jesus' name, Amen!
Midnight Prayers for Marriage Restoration.
The Lord is close to the brokenhearted and saves those who are crushed in spirit. -Psalm 34:18
Holy God, tonight I come before you to seek divine restoration over my broken marriage.
Please, Lord, arise in judgment the forces that have purposed in their hearts to destroy the relationship and home my partner and I have built over the years.
I am not afraid of the enemy in the world because I know greater is the one who is in me than the one who is in the world.
Mighty God, withdraw your mercy from this enemy and destroy them completely. Where they meant evil for us, turn them to our good.
Restore this once beautiful marriage to a desirable state to bring glory to you.
Most of all, heal my partner and me from every brokenness and bless our union with innumerable blessings so we will prosper physically and spiritually.
In Jesus' name, Amen.
Marriage Restoration Prayers.
He heals the brokenhearted and binds up their wounds. -Psalm 147:3
Lord Jesus, thank you much for blessing me with an amazing partner who, by all standards. You indeed surpassed my expectations when you brought ______ into my life.
Thank you for filling our lives with lots of love and joy. Currently, the devil, our adversary, is doing his best to turn this joy into sorrow and love into hatred.
However, your words tell me that only your will prevail. So, in our lives and relationships, may your love prevail. Touch us with your divine touch of healing where we are broken and hurting.
Speak peace to the conflict in our lives now. Imbue us with grace so we will learn to treat each other with love and kindness like we used to.
Thank you, Most Gracious God, for I know you have heard these prayer requests and granted the answers.
In Jesus' Mighty name, Amen.
Emergency Prayers for Marriage Restoration.
Behold, I will do a new thing, Now it shall spring forth; Shall you not know it? I will even make a road in the wilderness And rivers in the desert. – Isaiah 43:19
Father Lord, you said two couldn't walk together unless they have agreed to do so.
My wife and I used to agree on everything or disagree in love, only to reach a consensus afterward. But now, it is no longer the case; we have drifted so far apart that nothing can be done except you step in.
Merciful God, there is so much anger between my partner and I now. We cannot seem to agree on anything anymore.
Instead, we are always fighting about everything, and I fear we are beyond fixing if you don't help us. Please get rid of all the anger and hatred from our hearts.
Teach us to be slow to anger, slow to speak, and quick to listen. Most importantly, I ask that you restore our relationship quickly and show forth your glory through this marriage.
In the Mighty name of Jesus Christ, I pray, Amen!
Powerful Prayers for Marriage Restoration.
And I will bring my people Israel back from exile. "They will rebuild the ruined cities and live in them.
They will plant vineyards and drink their wine; they will make gardens and eat their fruit. – Amos 9:14
Heavenly Father, I am grateful for the privilege to come before your throne of grace.
I commit my struggling marriage into your loving hands; my spouse and I need divine healing from all the hurt we have caused each other. Heal our shattered hearts and speak restoration to the broken pieces of our relationship to wholeness.
Father, the last thing I want is to end up divorced because I know this is not your will for us. So, I ask that you be compassionate toward us and restore our marriage.
By the authority in the name of Jesus, I speak healing, transformation, peace, joy, and bliss into my marriage and home. I declare by faith that my marriage shall prosper and glorify God.
In Jesus' mighty name, Amen!
Prayer for Marriage Reconciliation.
But at the beginning of creation God 'made them male and female. For this reason, a man will leave his father and mother and be united with his wife.  -Mark 10:6
Dear God, I do not just want a reconciliation with my husband, whom I would like to become my best friend; I also want a healthy marriage. I have experienced hard times, but I want to stay married because I know how much you hate divorce.
Please bring your good plans for me to pass in this marriage. With your great power, restore my marital relationship and fill my heart's desires concerning this marriage.
Lord Jesus, my daily prayer is that you do your good work on the specific issues threatening the peace of my marriage.
As you bring my partner and I together again, you will shield our marriage from our real enemy – the devil.
In your great power, help us take the next steps in our relationship to fix our broken marriage, so it becomes a strong marriage.
In Jesus' Mighty name, Amen!
Hopeful Prayer for Marriage Restoration.
Marriage should be honored by all, and the marriage bed kept pure, for God will judge the adulterer and all the sexually immoral. -Hebrews 13:4
Dear Lord of Hosts, thank you for the institution of marriage and the powerful tool called prayer which you have blessed us with to travail on our knees and get what we want.
Thank you also for your unconditional love and loving thoughts for us that are thoughts of good and not evil.
In your way, Father God, calm the storms of life that may sink my marriage if you do not intervene divinely. Touch my husband's heart and mine and fill it with pure love.
I desire the return of the love of my life in every sense by the power of your Spirit. Mighty God, please make this happen in my marriage.
As your light shines in the affairs of men, let it shine in my marriage. Bless us with a wise counselor with the love of Christ in her heart that will always provide us with Christian counsel in difficult times.
Precious Holy Spirit, work your miraculous wonders and restore my failing marriage. Erase the hurtful feelings my partner and I have caused each other. Rekindle your love in our marriage, better than our first love for each other.
Source of All Love, help us out on the full armor of God so we can withstand the enemy in our marriage. Lastly, I ask that you fulfill your best intentions for us and transform our marriage from how things currently are to how they should be.
In the Holy Name of Jesus, I pray, Amen.
Prayer to Heal My Marriage
The words of the reckless pierce like swords, but the tongue of the wise brings healing. -Proverbs 12:18
Dear God of All Grace, thank you for the spiritual authority you have given in us in Christ Jesus to decree things and speak those that are not into existence.
Merciful Father, I seek your divine intervention and healing over my broken marriage; heal us in all the places we need your healing.
Bless us with all physical and spiritual blessings in good measure. Make ours the best marriage among those in our community to the glory of your name.
By the power of your spirit, make my life partner and me a blessed married couple now and always.
Thank you, Merciful Father, for restoring my marriage, and blessing me, my spouse, and my family members.
In Jesus' name, Amen.
Frequently Asked Questions
What is the Fastest Way to Pray for Marriage Restoration?
The fastest way to pray for marriage restoration is to pray, asking God specifically to restore your marriage. Matthew 6:7 says – And when you pray, do not keep on babbling like pagans, for they think they will be heard because of their many words.
Pour your heart into Him; let Him know you are committed to making your marriage work. Pray for your partner, asking God to help heal their heart.
God knows what your marriage needs to succeed, so be specific in telling Him what to restore in your marriage and relationship. Praying with specificity often brings speedy answers.
How Do I Strengthen My Marriage?
There are many ways to strengthen a marriage, but the most viable ways are:
Commit to having and maintaining a stronger relationship with God. This will impact your marriage positively.
Spend quality time with your spouse regularly to strengthen the bond between you.
Seek God's guidance and wisdom in your relationship.
Have clear and thoughtful communication always.
Resolve marital problems through dialogue.
Do all you can to understand each other's perspective.
Never use aggression or violence toward each other.
Pray together as a family daily.
How Do You Pray in Difficult Times in Marriage?
It is unarguably true that it is hard to pray in a difficult time. But the truth is that's when you should pray hard.
Is your marriage going through a hard time, or has it hit rock bottom?
Here's how you should pray at such a time:
Schedule time to pray every day.
Pray instead of reacting to issues.
Fight for your marriage on your knees.
Pray for your relationship with your spouse.
Ask God for unwavering faith.
Pray consistently and strategically for your spouse and you.
Ask God for wisdom and strength to overcome all the challenges in your marriage.
Copy and paste the prayers in this article into your phone as a reminder so you can pray on the go.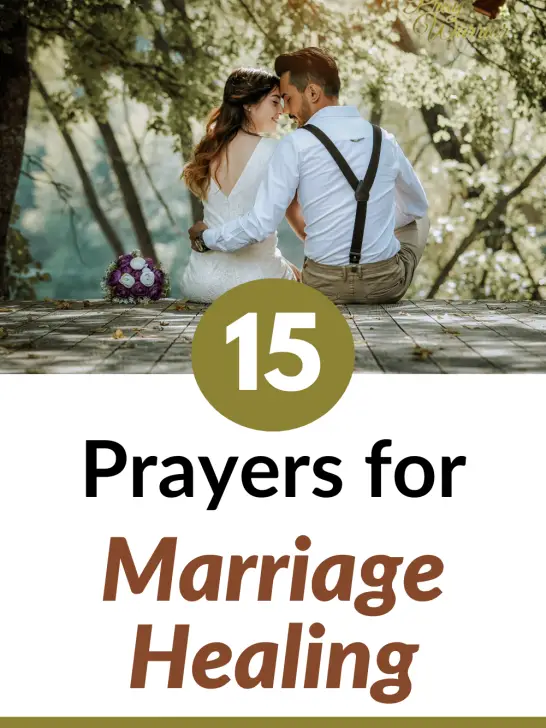 When Do I Stop Praying for Marriage Restoration?
Scripture says, pray without ceasing. In other words, you must keep praying until God restores your marriage. Even after your marriage has been restored, you must continue to pray for peace, joy, love, understanding, renewed friendship, and the overall health of your marriage.
The mistake many make is that they stop praying when everything becomes okay in their marriage. However, the word of God tells us the devil, our adversary, goes to and from the earth seeking who to devour.
The number target of this real enemy is marriage. So, you must always be on your guard spiritually over your marriage.
Conclusion
If you have prayed for your marriage that has fallen apart, and you probably want to know when to stop praying for marriage restoration, I tell you it is never.
It is until your marriage receives healing. You may not have seen the desired result because you have not prayed the right prayers with faith.
That's why I encourage you to pray the above powerful prayers for marriage healing. And watch God perfect the miraculous in your marriage.