Prayers for Marriage Restoration will help you to restore your broken marriage.
When a marriage deteriorates, a couple can believe they can do nothing to restore it to its former glory.
However, God promises to restore what we have lost in Joel 2:25. He can restore an ailing marriage and make it strong.
Rebecca Barlow Jordan says, "Marriage restoration is possible when a husband and wife are willing to work together with God on their relationship."
Each spouse needs to commit to the process of restoration and be willing to allow the Holy Spirit to work in them.
Eston Swaby notes that it may be tempting to make timelines when changes should be made, but you can't put a time frame on when a marriage is going to be "okay."
Prayer will fill you with the peace you need as you wait on God to restore your marriage.
Every married person knows that the proverbial thorns in the bed of roses eventually show up even in the most blissful of marriages.
It's not a question of if it happens but rather a question of when it happens.
So if your marital bliss gets rudely interrupted by some turbulent waters, it is not time to abandon ship.
Instead, it is time to stand firm in faith and engage the gear of prayer for the fervent prayer of the righteous will avail much.
Here are 27

Powerful Prayers

for Marriage Restoration.

1. Restoration of First Love.
Lord, forgive my spouse and me for allowing our love to wax cold. And help us to revive the stones of our first and genuine love.
Let the passion and desire that drew us to one another be revived in our hearts again.
Let our hearts burn within us again. I realize that a lot has transpired over the years but I also realize that your grace is sufficient and your strength is made perfect in weakness.
May you perfect our love in this moment of weakness, Amen.
2. Restoration of Romance.
Father in heaven, help my spouse and me to model our marriage on the pattern of Ephesians 5.
You command the husband to love the wife just as Christ loved the church and you also command the wife to submit to the husband.
I must confess that this often seems like a tall order but I also recognize that you wouldn't tell us to do something that you knew was impossible.
I humbly ask for your help in our marriage that as we seek the model of the Bible in our marriage, our romance will be rekindled and we will not desire any form of satisfaction outside our union.
Thank you, Lord Jesus. Amen.
Also Related: 13 Prayers for Restoring A Broken Relationship.
3. Restoration of Peace.
Dear Lord Jesus, I pray for the peace that surpasses human understanding in our marriage.
The world is turbulent enough and home should be a place where we can count on getting peace.
After dealing with the issues that we deal with on a daily basis, my spouse, the kids,
and I deserve to come home to a peaceful environment where we can rejuvenate and be ready to tackle the challenges of the next day.
Home shouldn't be a place of battle, pain, and anguish where we don't long for anymore.
Let your peace overshadow our marriage so much that home will be the oasis of hope again.
Thank you in advance for your help, Amen.
4. Breaking the Bondage of Infidelity.
Dear Lord, I ask for forgiveness for allowing infidelity to almost destroy our marriage.
Even though it looks like there is no coming back from this, I ask you for mercy and for a second chance to make things right.
Open my eyes to see where I may have faltered and done the same for my spouse as well.
And I take authority against the spirit of fornication and infidelity that is working overtime to ruin my marriage.
I rebuke that spirit in the mighty name of Jesus.
I declare that my spouse and I are totally free from the spirit of unfaithfulness and we shall always be committed to one another.
In the mighty name of Jesus, I pray, Amen.
5. Breaking the Bondage of Divorce.
Lord, you have said in your word that you hate divorce.
You made it clear to the disciples that even though you allowed it in Israel through the law of Moses, it wasn't really your will for your children's marriages to end that way.
And I chose to believe that your will for my marriage is to stand the test of time instead of being another statistic of divorce.
I take authority against the bondage of divorce that is trying to attack my family from different angles.
I declare the words of Mathew 15:13, that because this tree was not planted by my heavenly father, it shall be uprooted in the name of Jesus Christ.
May the bondage of divorce be broken now in Jesus's name, Amen.
6. Breaking the Spirit of Barrenness and Impotence.
Father in heaven, you promised in your word to bless us with the fruit of the womb. I stand on that promise and come against the spirit of barrenness and impotence in my family.
You are the one who blesses couples with children and irrespective of what the situation around may look like, believe that you are blessing us with children too.
The same way you opened the womb of our matriarch of faith Sarah, I believe you are also blessing us as a family.
Thank you for hearing and answering my prayer and taking away our shame and pain, in Jesus's name I pray, Amen.
Related: War Room Prayers for Marriage Restoration: 15 Best.
7. Breaking the Spirit of Jezebel.
Lord Jesus, I approach the throne of grace with boldness for I am in need of your mercy.
I rededicate the life of my spouse and I to you that we might continue to lead holy and quiet lives that bring glory to you.
Father, I realize that we are up against an enemy that is constantly seeking an opportunity to devour us.
I ask that you help my spouse and me to be always alert and sober.
I take authority against the spirit of jezebel that comes to seduce me and my spouse to lust after other people.
May that spirit not take root in us. May any such weapon from the enemies come to go back to the sender without achieving its intended purpose.
Like Job made a covenant with his eyes not to look lustfully upon a woman.
I pray that you will help my spouse and me not to fall for the cheap tricks of the enemy. Thank you, Lord, Amen.
8. Financial Prosperity.
Father in heaven, it is your will for us to prosper and be in good health just as our soul prospers.
It is not your will for us to struggle financially as a family to the point that our marriage gets threatened.
I pray that you are going to heal our finances as a couple.
And even more importantly, I pray that you are going to help my spouse and me to be better stewards of the resources you entrust to us.
And as we do that, may you help my spouse and me to continue flourishing in our different pursuits.
May money and the lack therefore not cause unnecessary strain in our marriage.
In Jesus's name, I pray, Amen.
9. Spiritual Warfare.
Heavenly Father, your word reminds me that even though we live in the world, we cannot wage war as the world does.
Right now, my marriage is under attack but it is more of a spiritual attack.
My war is not against human beings but against the powers of darkness that are working against my marriage.
I take the breastplate of righteousness, the helmet of salvation, the belt of truth, the shield of faith, and the sword of the spirit.
Father, I wage war in the spiritual realm against any power of darkness that has been assigned to cause havoc against my family.
In the name, of Jesus, I stand on my watch and declare that the devil's darts will be quenched by the shield of faith and they will not reach my family.
I enjoy victory from today henceforth, in Jesus's name I pray, Amen.
10. Rebuilding Trust and Honesty.
Lord Jesus, I ask for your help.
My spouse and I are in a really bad place because our trust has been broken. We want to trust again but the damage that was done was great.
Humanly speaking, it looks impossible to get back to where we were before but I take comfort in the promise of your word that what might be impossible with man is possible with God.
I, therefore, lift this heavy burden to you and leave it at your cross.
Help us through your divine providence to reach a place where we can trust one another again.
Thank you for hearing and answering my prayer, Amen.
11. Emotional Healing.
Father in heaven, as we believe you for the healing of our marriage.
I realize that there is also a need for the emotional healing of my spouse and I. We have hurt each other deeply and the wounds will indeed leave indelible scars.
But I am also cognizant of the fact that you are a great physician.
There is no wound that is too bad that you can't heal. And I, therefore, come to you in faith asking for the healing of my emotions.
Help me to get over every wound be totally healed as well. In Jesus's name, Amen.
12. Prayer for Forgiveness.
Dear Lord Jesus, you modeled for us the importance of forgiving those who wrong us when you forgave the soldiers who crucified you.
You also reminded us that if we do not forgive our brethren, then we shouldn't expect God to forgive us.
I, therefore, want to follow your example and I ask that you may help me to truly forgive my spouse for everything and anything they have done against me whether knowingly or unknowingly.
And because I have forgiven them, I will no longer hold any grudge. Thank you for the liberating power of forgiveness, Amen.
13. Prayer for waiting on the Lord.
Psalm 27:14 "Wait on the Lord; Be of good courage, And He shall strengthen your heart; Wait, I say, on the Lord!"
Lord, I praise you because you always come through for me. I have lacked nothing.
Thank you for the blessing of marriage and your promise to keep it strong till the end.
Help me wait on you to restore everything that is broken in my marriage.
Strengthen my heart to keep seeking your face till I see answers to my prayers. I know that waiting for you is never in vain.
In Jesus' name, I pray. Amen.
14. Prayer for God's guidance.
Psalm 32:8 "I will instruct you and teach you in the way you should go; I will guide you with My eye."
Lord, thank you for your guiding light that leads me along the right path in life. You always show me the way to deal with any situation I face in my life.
I ask that you teach me your ways in marriage so I may embrace them.
My desire is to follow your lead in my marriage even as you restore it to its former glory.
Give me fresh insight into the root causes of the problems in my marriage and show me how to deal with them.
In Jesus' name, I pray. Amen.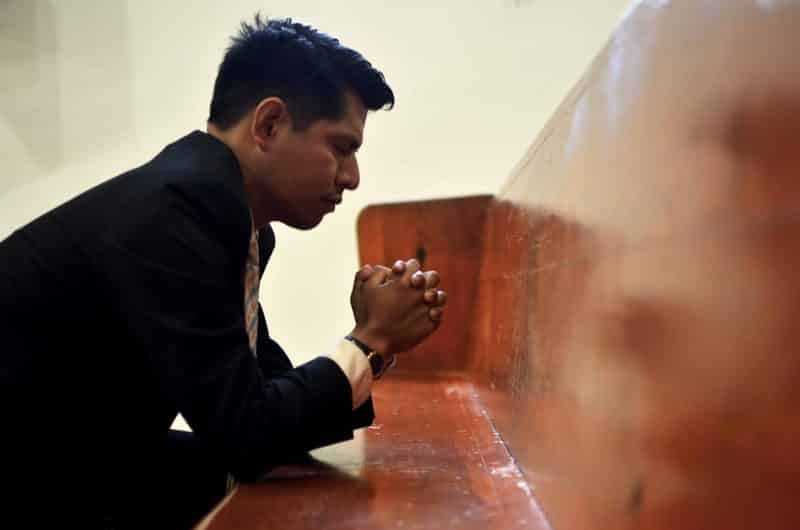 15. Prayer for God to restore the glory of your marriage.
Nahum 2:2 "The Lord will restore the splendor of Jacob like the splendor of Israel, though destroyers have laid them waste and have ruined their vines."
Lord, you are a God of restoration and I ask you to restore the splendor and glory of my marriage.
When my spouse and I work as one, it brings you glory and displays your wonder.
There are many things that have stripped our marriage of its glory and I ask that you help us deal with them.
May the restoration of my marriage bring you glory.
In Jesus' name, I pray. Amen.
Also Related: 75 Bible Verses for Failing Marriage #51 Will Surprise You.
16. Prayer for God's revival for you and your spouse.
Hosea 6:2 "After two days he will revive us; on the third day he will restore us, that we may live in his presence."
Lord, thank you for always helping my spouse and I through the difficult moments we face.
We have encountered troubles that have torn our marriage apart and have left us broken and weary.
Revive our hearts so we can continue trusting and waiting on you to restore our marriage.
Give us the strength we need to keep going and where we have grown faint, fill us with your power.
Help my spouse and I rise again so we may praise and worship you every day.
In Jesus' name, I pray. Amen.
17. Prayer for God to heal your marriage.
Matthew 8:13 "Then Jesus said to the centurion, 'Go! Let it be done just as you believed it would.' And his servant was healed at that moment."
Lord, heal our hearts from the pain and anguish of our broken marriage.
The breakdown of our marriage has left us angry at each other and we don't talk.
Renew our hope that we may believe our marriage can stand the test of time.
Reach into the hearts of my spouse and I and take away the disappointment, fear, regret, and defeat we feel.
I believe in your healing touch and I thank you in advance for the healing.
In Jesus' name, I pray. Amen.
18. Prayer to be transparent with your spouse.
James 5:16 "Therefore confess your sins to each other and pray for each other so that you may be healed. The prayer of a righteous person is powerful and effective."
Lord, you have shown me the power of prayer and all that it has achieved in my marriage.
Help my spouse and I be transparent with each other and not hide our true selves.
Grant me the grace to deal with my spouse with honesty and to always pray for him/her.
Show us how to pray for each other despite our troubles and disagreements.
Heal our hearts as we forgive and pray for the needs of the other.
Give us the patience we need to wait for you to redeem our wasted years.
In Jesus' name, I pray. Amen.
19. Prayer to show compassion to your spouse.
Deuteronomy 30:3 "Then the Lord your God will restore your fortunes and have compassion on you and gather you again from all the nations where he scattered you."
Lord, thank you for being a compassionate Father to me. T
today I ask that you show my spouse and I compassion for where we have failed to walk in your ways.
Where we turned our backs on each other, help us face each other, and talk.
Restore our lost time together and help us enjoy having conversations like we once did.
Soften our hearts toward each other.
In Jesus' name, I pray. Amen.
Also Related: 15 Bible Verses That Will Transform A Broken Marriage.
20. Prayer for God to rebuild your marriage.
Amos 9:11 "In that day I will restore David's fallen shelter—I will repair its broken walls and restore its ruins—and will rebuild it as it used to be.'"
Lord, where my marriage has fallen apart, please lift it up once more. Repair our broken walls and restore what the enemy has ruined.
Let your presence never leave my spouse and I, and may we always seek your face.
Strengthen the areas of our marriage that are weak and restore the proper foundation so it can stand.
In Jesus' name, I pray. Amen.
21. Prayer to return to the Lord.
Lamentations 5:21 "Restore us to yourself, Lord, that we may return; renew our days as of old."
Lord, you are a forgiving God and you are faithful to forgive us when we sin against you.
Forgive my spouse and I for where we walked away from you because of the pain and discomfort of our marriage.
We lost trust in you and blamed you for many things. I repent for not allowing you to work in my heart.
Cleanse my spouse and I from unrighteousness and restore a pure spirit in each of us.
Restore our marriage to better than it was. May we never depart from you.
In Jesus' name, I pray. Amen.
22. Prayer to return to the ways of God in marriage
Isaiah 57:18 "I have seen their ways, but I will heal them; I will guide them and restore comfort to Israel's mourners."
Lord, you are the way maker and your ways are always perfect.
Show my spouse and I, your ways and help us follow them in our marriage.
Guide us on the right action steps to take as you restore our marriage.
May we not deviate from your ways but hold on to them for the sake of our marriage.
Show us the right path to follow and help us walk in it.
In Jesus' name, I pray. Amen.
23. Prayer to stay focused on Jesus.
Hebrews 12:2 "Fixing our eyes on Jesus, the pioneer, and perfecter of faith.
For the joy set before him, he endured the cross, scorning its shame, and sat down at the right hand of the throne of God."
Lord, thank you for your gift of salvation. Today I am free because of you, Jesus.
You have been with me always and you have promised to never leave or forsake me.
Help me keep my eyes on you because you are the one who helps me keep my faith in you.
I will abide in you and pray for my spouse to do the same so you will also abide in us and we will bear lasting fruit.
In Jesus' name, I pray. Amen.
24. Prayer for God's strength.
2 Corinthians 13:9 "We are glad whenever we are weak but you are strong, and our prayer is that you may be fully restored."
Lord, you are my strength when I am weak. I can rejoice because you have promised to strengthen me when my strength fails me.
My marital troubles have weakened me and I want to give in to the temptation to quit.
Restore my strength and energy to keep believing for a breakthrough in my marriage.
Show me how to pray for my marriage according to your will.
In Jesus' name, I pray. Amen.
25. Prayer for God to restore lost resources.
Psalm 126:4 "Restore our fortunes, Lord, like streams in the Negev."
Lord, thank you for providing my spouse and I with a good life full of your blessings.
We lack nothing because you have given us everything we need to live a godly life and bless others.
Restore all resources we have lost because of the turmoil in our marriage. May our cup overflow once more and may our love last forever.
In Jesus' name, I pray. Amen.
26. Prayer for God's favor.
Psalm 80:3 "Restore us, O God; make your face shine on us, that we may be saved."
Lord, I praise you because your glory has arisen over my spouse and I. Make your face shine upon us during this trying time.
May we feel your presence as we struggle to make sense of all that is going on between us.
Show us your favor and make a way for restoration where there seems to be none.
Give us favor with those you have appointed to help us work through our marital problems.
In Jesus' name, I pray. Amen.
27. Prayer for generational marital curses.
Isaiah 61:4 "They will rebuild the ancient ruins and restore the places long devastated; they will renew the ruined cities that have been devastated for generations."
Lord, you are my hope for the salvation of my marriage. I don't know the cause of the troubles I'm facing in my marriage.
Where there are generational marital curses working against it, please show me.
Deliver my spouse and I of any marriage curses we have inherited without knowing.
In Jesus' name, I pray. Amen.
Conclusion
The above prayers for marriage restoration will give you hope that with God's help, your marriage can become strong again.
It will weather the current storms and thrive.
Rebekah advises that waiting on the restoration of a marriage is hard work.
It involves trusting in God and his timing and laying aside our wants and desires and holding on when the world wants you to let go.
For God to restore a broken marriage, he changes you and your spouse as he reconciles the two of you.
Ann White says, "We must accept that we cannot change other people and focus on the one person we can change – ourselves."
We serve a God of second chances and he will restore your marriage to better than it was.
Use the prayers for marriage restoration, trust in his miracle-working power and you will experience marital bliss once more.
Prayers for Marriage Restoration Resources.
Books
The Meaning of Marriage

by Timothy Keller with Kathy Keller

The Seven Principles for Making Marriage Work

by John M. Gottman, Ph.D. and Nan Silver
Healing Your Marriage When Trust is Broken by Cindy Beall
Prayers for Marriage Restoration testimonies.